Although there is still much to learn, The Centres for Disease Control and Prevention state that "Current evidence suggests SARS-CoV-2 [the novel coronavirus that causes COVID-19] may remain viable for hours to days on surfaces made from a variety of materials" (2020). Therefore, whilst good hand hygiene practice is crucial to stopping the spread, so to are effective surface cleaning methods.
With many businesses returning to work, including non-essential retailers, and some schools reopening to students, effective hygiene practices are even more important to prevent the spread of COVID-19. With people now browsing stores, or working in environments with frequently touched surfaces or tools, failure to conceive and execute cleaning plans could see a spike in the R rate, and cause further lockdowns.
So, how can you help prevent this?
In a bid to provide clarity on the government's guidance regarding cleaning in the age of COVID-19, this blog post identifies the similarities and differences between industries, and offers advice on cleaning best practice.
What is the guidance regarding cleaning?
As with other guidance that has been released relating to returning to work, it is split into industry specific subsets that are as follows:
Construction
Factories, plants and warehouses
Labs and research facilities
Offices and contact centres
Other people's homes
Restaurants offering takeaway and delivery
Kitchen or café
Shops or branches
Vehicles
However, the guidance across many of these industries shares common attributes such as:
Frequent cleaning of work areas and equipment
Frequent cleaning of objects and surfaces that are touched regularly (these can vary based on industry)
Clearing workspaces and removing waste and belongings from the work area at the end of shift
What differences in guidance are there across industries?
Whilst industries share the above similarities, they also have specific guidance regarding the application of cleaning with specialist tools or equipment. For example:
Construction Cleaning
1.Sanitisation of all hand tools, controls, machinery and equipment after use
Labs and Research Facilities
Determining the required cleaning process for expensive equipment that cannot be washed down, designing protection around machines and equipment
Offices and Contact Centres
Limiting or restricting use of high-touch items and equipment, for example, printers or whiteboards
Other People's Homes
Arranging methods of safely disposing waste with the householder
Vehicles
Encouraging workers to wash hands before boarding vehicles.
Retaining sufficient quantities of hand sanitiser / wipes within vehicles to enable workers to clean hands after each delivery / drop off.
However, it is the food and catering industries that have significant differences with regard to guidance on cleaning and making their businesses COVID-19 safe for re-opening. Official government advice for those industries is:
Restaurants Offering Takeaway or Delivery
Wedging doors open, where appropriate, to reduce touchpoints. This does not apply to fire doors.
Cleaning laminated menus or disposing of paper menus after each use.
Providing only disposable condiments or cleaning non-disposable condiment containers after each use.
Frequent cleaning of work areas and equipment between uses, using your usual cleaning products.
Kitchen or Café Cleaning
Recognising that cleaning measures are already stringent in kitchen areas, consider the need for additional cleaning and disinfection measures.
Having bins for collection of used towels and staff overalls.
Asking workers to wash hands before handling plates and takeaway boxes.
Continuing high frequency of hand washing throughout the day.
How likely is it that I will pick up the infection from a contaminated surface?
According to Schülke's course, Environmental cleaning during the COVID-19 outbreak, "Viruses can survive on environmental surfaces for an extended period of time" and as a result, without effective cleaning practices, infection is possible some period after the initial contamination of a surface (2020).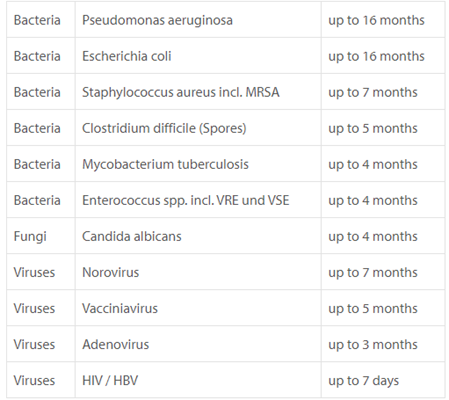 Knowledge regarding the viability of SARS-CoV-2 on surfaces is relatively sparse, with only two studies being published; one in the New England Journal of Medicine, and the other in The Lancet. However, these studies have shown that that the virus is still detectable on some surfaces after a significant period of time, as shown in the image below.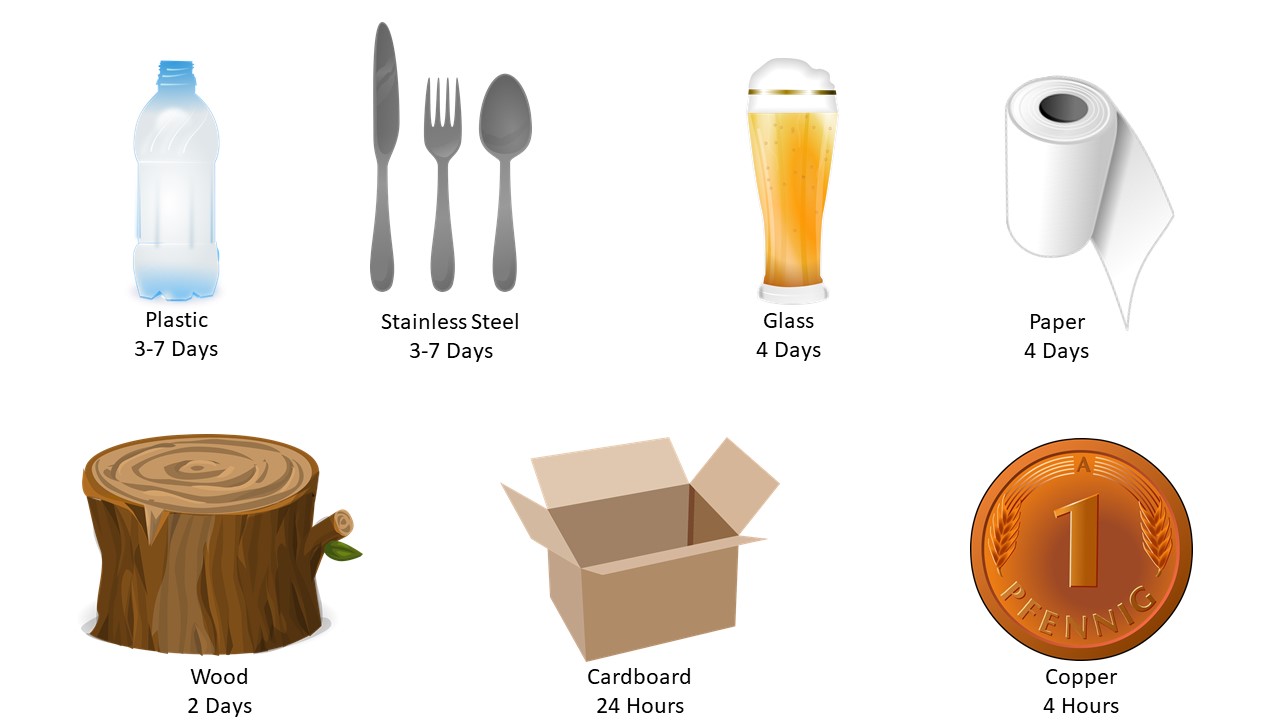 Writing for Healthline, Jill Seladi-Schulman states that both studies saw contaminated surfaces incubated at room temperature and that despite the virus being detected on surfaces "the viability of the virus, due to environmental and other conditions, is not known" (2020). Whilst the viability of the virus (the potential to cause infection) is unknown, effective surface cleaning methods remain crucial to preventing the spread of the virus.
How can I ensure that I achieve the highest level of sanitation on surfaces?
The Centers for Disease Prevention and Control state that it is important to develop a plan when cleaning surfaces, whether that be at home, or shared spaces such as the workplace. This plan will need to consider the frequency with which a surface is used/touched – surfaces that have remained unused for 7 days may need only "routine cleaning" – and what type of surface is being cleaned. Priority should be given to the most frequently touched surfaces (2020). There should also be two stages to any cleaning that is undertaken, this includes a pre-clean and the application of disinfectant.
Pre-clean
Before disinfecting any surface, there should be a pre-cleaning process that is undertaken. This will consist of wiping the surface down with water and detergent. This serves two purposes. Firstly, it removes any soiling that makes the surface look unclean. Secondly, it helps to remove some of the microorganisms that may be present, and helps reduce the risk of further spread onto other surfaces. Schülke suggest that figure of eight loops, such as those seen in the image below, work best for this.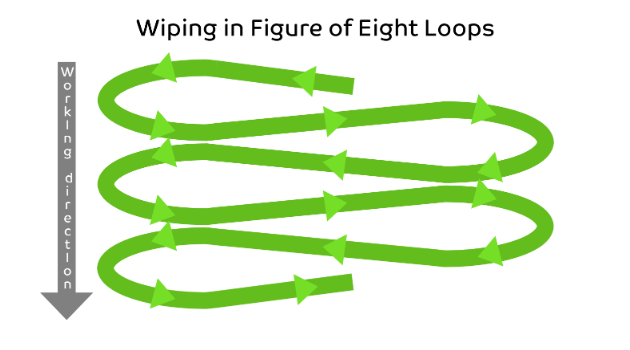 At this point, it may be worth considering using disposable materials such as kitchen roll unless you have laundry facilities with which cleaning cloths can be washed. The NHS recommend that any reusable cloths should be disinfected and/or washed at 60C (140F) after each use (2017).
Disinfecting
Disinfecting a surface kills any remaining pathogens or microorganisms that remain following the pre-cleaning stage of the process, ensuring that the risk of infection is drastically reduced. If you are unsure as to whether or not the disinfectant you use is effective against COVID-19 or other coronaviruses, there are ways with which you can identify how stringently its efficacy has been tested.
The most effective disinfectants will be assigned a European Norm (EN) standard of EN14476, and this will be displayed on the label. It is worth checking if the disinfectant also contains viricidal agents. This will also be indicated on the label. However, whilst these indicate how effective the product is at combating microorganisms or pathogens, it is crucial that the instructions for us are followed. This is because different disinfectants require different contact times to ensure that best results are achieved. For example, a disinfectant with EN14476 and viricidal agents may require a 5-minute contact time to ensure that remaining pathogens are killed/deactivated. It is also crucial that you use the correct amount of disinfectant to ensure best coverage.
To be sure that you are disinfecting your surfaces effectively, leave the disinfectant to dry naturally. Once the surface has dried, it is considered safe to use.
SOHO Commercial and Cleaning Products
At SOHO Commercial, we stock industry leading products, manufactured by Rubbermaid, that have been designed to provide high standards of environmental hygiene, and protect against the risk of infection. Whether you are looking for cloths or mops that can help you work towards a COVID-19 safe environment, we will be able to help you protect your staff, customers and visitors.
The following products are some of our best selling, and have been proven, when placed against similar products, to provide a superior clean.
Rubbermaid Microfibre Cloths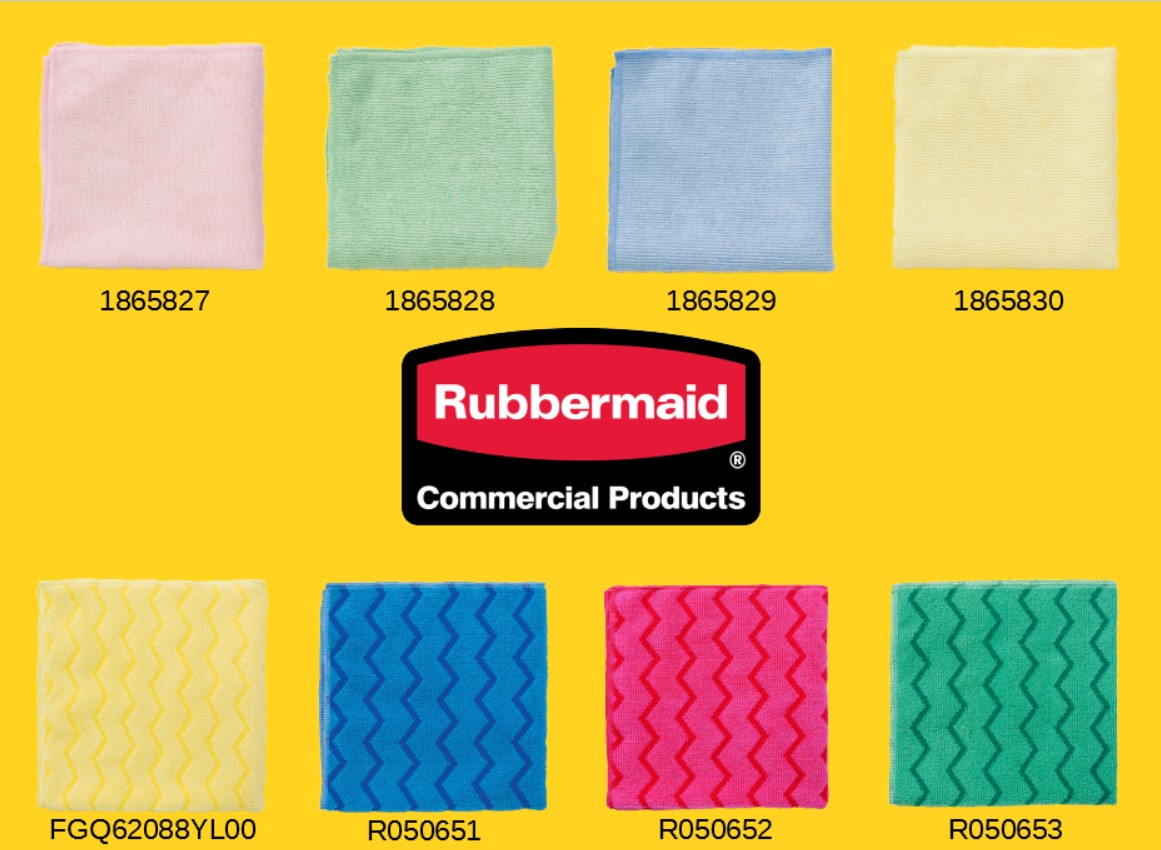 Rubbermaid's microfibre cloths come in two variants; light commercial and Hygen. Both have been designed to provide superior cleaning when compared with other microfibre cloths, but you might be wondering which is more suited to the tasks
Rubbermaid Light Commercial Microfibre Cloth – 1865827, 1865828, 1865829, 1865830
Ideal for the less demanding user, Rubbermaid's Light Commercial Microfibre Cloth has been proven to remove 99.9% of microbes from surfaces. It is a versatile cloth that is suitable for wet and dry cleaning, and enables colour-coding to be employed to prevent the risk of cross contamination.
The light Commercial Microfibre cloth is bleach safe, and can withstand 100 washes with bleach, or 200 without.
They are available in blue, green, red and yellow.
Rubbermaid Hygen Microfibre Cloth – FGQ62088YL00, R050651, R050652, R050653
Described as "industry-best", Rubbermaid's Hygen Microfibre Cloth features patented zig-zag scrubbing strips that make removing dried on stains and blemishes easy, and have been proven to remove 99.9% of microbes. The high quality knit provides superior absorption and debris collection, while the double finished edges ensures the cloth retains its shape and the risk of fraying is greatly reduced.
The Hygen Microfibre cloth is also capable of withstanding temperatures of 90°C, allowing them to be laundered and sanitized with or without bleach (can tolerate 500 wash cycles without bleach, or 200 with bleach).
The cloths are available in blue, green, red and yellow, and facilitate the application of colour-coded systems to prevent cross contamination.
Rubbermaid PULSE Mop Systems
Rubbermaid Single-Sided PULSE Mop
Available in Grey (1861160) and Yellow (FGQ96958YL00), Rubbermaid's PULSE helps you to clean floors faster and better than before.
Featuring an on-board high-capacity fluid reservoir that is capable of carrying 0.6L of cleaning solution, the PULSE mop provides 80m² of floor coverage. Fluid levels are easy to monitor via the handy window, and refilling is a breeze due to the wide opening that is situated atop the reservoir.
The PULSE Mop also features a trigger, located in the handle, that allows the user to dispense three streams of cleaning solution behind the mop, ensuring that effective disinfection is achieved.
Rubbermaid's PULSE Mop can be customized with the addition of a number of attachments. For example, if you wish to increase the capacity of the reservoir, or reduce the number of trips required for refills, why not purchase the High-Capacity FLOW back pack (1829092)?
The generous 5.6L capacity facilitates the cleaning of 820m² of floor space, while refilling is clean and easy due to the 7.5cm diameter opening. This increase in capacity helps to improve productivity, thus reducing labour costs.
Worker comfort has also been considered with venting channels that reduces moisture build-up on the back, while chest and waist straps facilitate the even distribution of weight into the hips, rather than the shoulders.
Rubbermaid Microfibre Mop Pads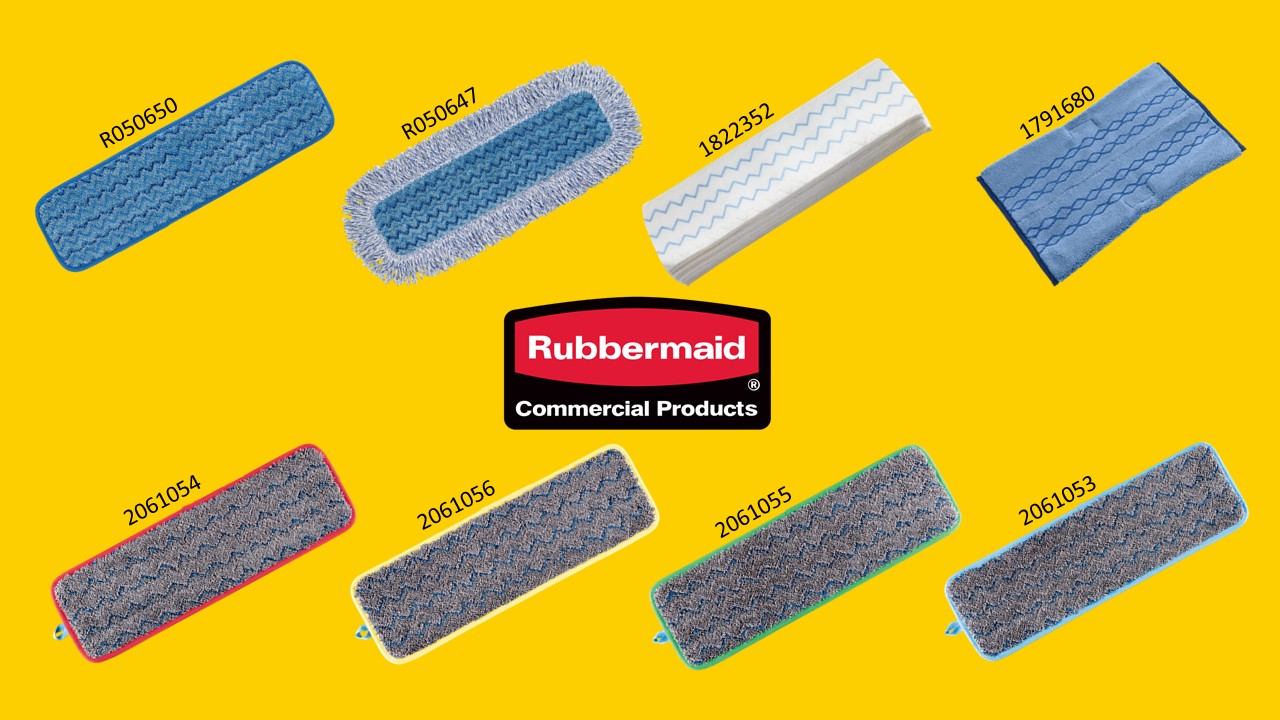 Rubbermaid HYGEN Microfibre Damp Mops – R050647, R050650, 1791680
Rubbermaid's HYGEN Microfibre Damp Mops are a durable pad that can be used with the PULSE handle and 40cm frame, and can be attached using the velcro strips on the underside of the frame. They are safe for use with bleach, can withstand high-PH cleaning detergents, and reduce water consumption by up to 90% when compared to traditional damp mop heads.
The pattented zig-zag scrubbing strips cut through tough, dried on stains with ease, ensuring that the floor looks clean, and is effectively disinfected.
Rubbermaid HYGEN Microfibre Wet Pad – 2061053, 2061054, 2061055, 2061056
The HYGEN Microfibre Wet Pads are a durable, high absorbency pad, capable of holding 0.7L of liquid. They are easily integrated into colour-coding systems that prevent cross-contamination due to the coloured banding around the pad's periphery.
Like the Damp Mops, they also feature the patented zig-zag scrubbing strips, and also reduce water consumption by up to 90% when compared with traditional mops.
HYGEN Microfibre Wet Pads are capable of withstanding up to 500 Laundry wash cycles, reducing to 200 when washed with bleach.
Rubbermaid Disposable Microfibre Mops – 1822352
Ideal for environments where access to laundry facilities is limited or non-existent, Rubbermaid's Disposable Microfibre Mops are proven to remove 99.9% of microbes, helping to stop the chain of infection.
The patented zig-zag scrubbers ensure that stubborn dried stains are easily removed without smearing. They are also capable of cleaning mirrors, glass and stainless steel with a streak-free finish. The disposable mops are also suitable for dusting or wet cleaning, meaning that the dual-purpose mop gives added value on investment.
**Rubbermaid's Disposable Mops have been tested on bacterias such as C.Diff, MRSA and Pseudomonas aeruginosa, as well as the virus Feline calicivrus, and has been proven as extremely effective. However, this product has NOT yet been tested for its efficacy against COVID-19**
If you would like more information regarding the products that are available to help you improve your surface hygiene or sanitary standards, please contact our helpful sales team on 0208 394 2088. Alternatively, email sales@sohocommercial and a representative will be in contact as soon as possible.
Sources
Centers for Disease Prevention and Control (2020) Guidance for Cleaning and Disinfecting Public Spaces, Workplaces, Businesses, Schools, and Homes . Available at: https://www.cdc.gov/coronavirus/2019-ncov/community/cleaning-disinfecting-decision-tool.html (Accessed: 12 June 2020)
Centres for Disease Prevention and Control (2020) Cleaning and Disinfection of Households . Available at: https://www.cdc.gov/coronavirus/2019-ncov/prevent-getting-sick/cleaning-disinfection.html (Accessed: 12 June 2020)
Department for Business, Energy & Industrial Strategy (2020) Working safely during coronavirus (COVID-19). Available at: https://www.gov.uk/guidance/working-safely-during-coronavirus-covid-19 (Accessed: 09 June 2020)
NHS (2017) How to prevent germs from spreading. Available at: https://www.nhs.uk/live-well/healthy-body/how-to-prevent-germs-from-spreading/ (Accessed: 12 June 2020)
OH, T. (2020) 'Environmental cleaning during the COVID-19 outbreak', Schülke [Online]. Available at: https://www.schuelke-learning.com/course/environmental-cleaning-during-the-covid-19-outbreak (Accessed: 10 June 2020)
Seladi-Schulman, J (2020) 'How Long Does the Coronavirus Live on Different Surfaces?', Healthline, 29 April. Available at: https://www.healthline.com/health/how-long-does-coronavirus-last-on-surfaces (Accessed: 11 June 2020)
Recent Posts
There can be no denying that 2020 has been a challenging year for many businesses and industries, ou …

Although there is still much to learn, The Centres for Disease Control and Prevention state that …

With the UK Government now easing lockdown, and providing guidance regarding the nation's return t …