With the government set to start outlining our county's exit strategy from the COVID-19 lockdown, many businesses will need to plan how best to return to a more "normal" form of operation. One of the many things they will need to consider is the impact of the pandemic on its workers. Writing for The Guardian, Robin McKie states that the "grim message" from psychologists is that "many people in Britain are likely to suffer from physical and mental problems for several years after the COVID-19 Pandemic has subsided" (2020). The impact on the public is clearly evident with a recent poll showing that Britons are opposed to lockdown being eased on May 8.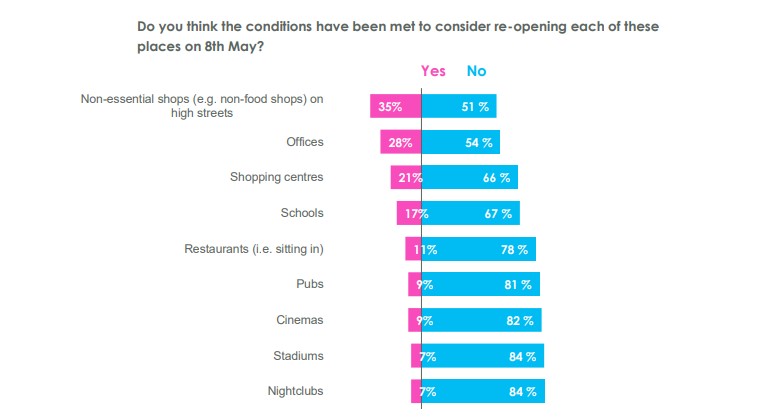 Figure 1: Opinium Research (2020) Poll Highlighting Public Anxiety Over Lifting of Lockdown Measures
Speaking with The Guardian, Professor Dame Til Wykes, of Kings College London states that "it is likely that most people will feel anxious and risk averse", particularly when "strict behavioural advice", is no longer offered by the government. Wykes further emphasises that the removal of such advice will leave people feeling "pressured, and individuals who had pre-existing anxiety, particularly about their health, will be worst hit" (2020).
There can be no doubt that businesses face a difficult task to return to a "normal" operational status. This will be further complicated by potential anxieties experienced by staff. However, there are things that businesses can do to help alleviate stress employees may experience. For example, workplace cleanliness and easy access to hand hygiene stations are just two things that could be remedied quickly, and offer visible indications that employers are taking staff safety seriously.
Are you suggesting that business spaces and employees aren't clean?
Not really. But there is evidence to suggest that people's pride for workplace cleanliness and hygiene isn't as thorough as it could be.
In January of 2019, SMC Premier Cleaning surveyed 5,000 UK office workers regarding their work and hygiene habits, revealing some disturbing statistics along the way. Fast forward 16 months, and the world is in the midst of a pandemic that has, as of 27 April, killed 207,391. Many businesses are keen for the government to offer insight to the potential exit strategy from lockdown which has not been forthcoming. However, it is likely that businesses, public services, the food industry and beyond will be forever changed, including approaches to hygiene. So what were the finding of SMC's research? And what can we do to help you protect your staff and the public?
Keep your filthy paws off my...
Since the outbreak of the pandemic, government, NHS, and WHO advice has been to carry out proper hand hygiene; washing hands with soap and water for 20 seconds. However, SMC's 2019 study found that only 61% of office workers wash their hands properly having used the toilet. Of the remaining 39%, 18% admitted washing their hands quickly, 14% decide when is most appropriate to wash their hands, with the final 7% admitting that they did not wash their hands.
The result also showed that there is a gender divide when it comes to hand hygiene following toilet use with 66% of women stating that they wash their hands thoroughly afterwards, while only 53% of men do the same.
SMC's research also showed that there is a generational divide with regard to the importance of thorough hand hygiene. Of those aged between 18 and 24, 11% confessed to not washing their hands after going to the toilet which, according to SMC, puts that age group above the overall average of 7%. However, those who fall into the age category of 45+ plus are much more considerate when it comes to hand washing with 68% ensuring that proper practice is undertaken.
Grim! Hand washing is the only concern, right?
Well, no.
We have all experienced busy days at work that lead to us eating lunch at our desk. Of 5,000 office workers surveyed, 26% of those who participated admitted to eating lunch at their desk 1-3 times per week. A further quarter of those surveyed stated that they eat while working up to 5 times per week, and 4% claimed they have no choice but to eat while working everyday. Meanwhile, 50% refuse to eat at their desk.
However, even more disconcerting are the results of the survey when participants were asked about their cleaning up habits after eating at their desk. Only 11% of those who eat at their desks clean-up properly, with 38% giving their work area a "quick clean" by putting wrappers in the bin etc. 45% of those who participated in SMC's survey claimed that they never make a mess when eating, with 7% admitting that they are too lazy to clean-up after they have eaten.
But I share workspace…
If you are one of the many individuals who share workspace or hot desk, you should probably consider whether the space is clean. According to the SMC survey, only 6% of participants believe that communal work spaces are cleaned after use, with 12% claiming they will only use a space if they know it has been cleaned first. 38% of people surveyed believe that shared workspaces are unhygienic due to the unknown of who had been sat there before. A large 44% have never even considered shared workspaces to be unclean.
All this makes me feel a bit queasy, maybe I will have a cup of tea and sit down…
A cup of tea makes everything better, right? Well, that depends on who is making it.
Of those who work in an office environment and make regular cups of tea for themselves and colleagues, only 39% admit to taking the time to give cups a proper wash before making a drink. 36% of those surveyed confessed to carrying out a quick rinse, largely due to not wanting to use communal sponges. And the remaining 25% of those surveyed admitted that they cannot be bothered to wash or rinse the cup when making a drink.
Please offer me some hope...
Things aren't all bad, and there are things that can be done to improve hygiene in offices. Truth be told, once businesses start returning to work, there is going to need to be a significant improvement in workplace hygiene, particularly if the search for effective COVID-19 treatment is ongoing.
On April 16, The New England Journal of Medicine published a study that identified how long SARS-CoV-2 – the strain of virus responsible for COVID-19 – can survive on different surfaces. Scientists found that the virus could remain stable for up to 4 hours on copper, up to 24 hours on cardboard, and up to 72 hours on plastic and steel. However, the number of pathogens drastically reduced over these time periods.
Whilst the CDC states that "it may be possible that a person can get COVID-19 by touching a surface or object...that has the virus on it...but this is not thought to be the main way the virus spreads", the public consciousness has been roused to the benefits of effective hand and surface hygiene.
At SOHO Commercial, we stock a large number of products that can assist with improving, and maintaining workplace hygiene. Whether it is surface care or hand hygiene, we will have a product that will help you to ensure that your staff and, where necessary, the public are protected from the spread of harmful pathogens.
Surface Care
As the UK's official wholesaler of Rubbermaid Products, we stock a large number of items that have been designed with high performance surface care in mind.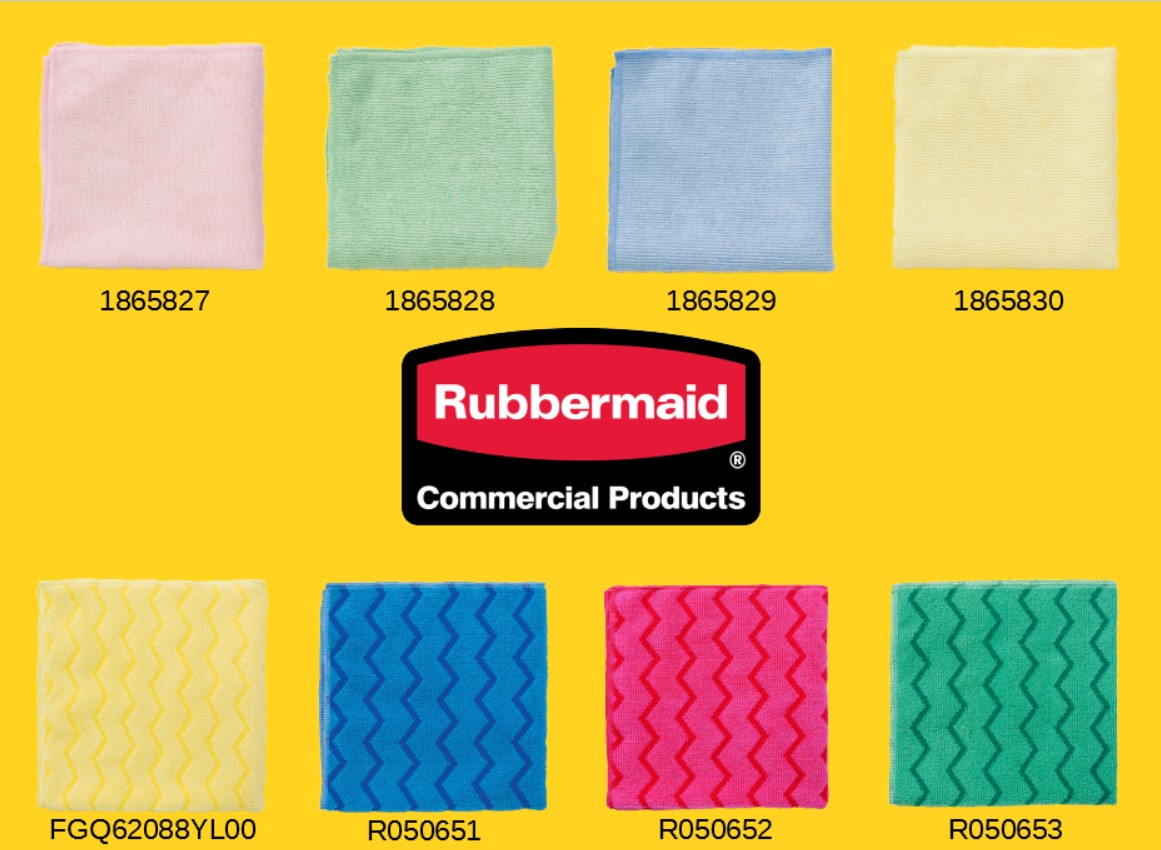 Among these products are Rubbermaid's range of Hygen cloths which Combine superior microfibre weave with built in scrubber technology that provide added protection against the risk of infections. The patented zig-zag pattern scrubber ensures that cleaning is quick and easy, and overall performance has been proven to remove 99.9% or microbes. They are also extremely durable and can withstand 500 laundering cycles; 200 when bleach is added.
For lighter surface cleaning purposes, we also stock Rubbermaid's Light Commercial Microfibre Cloths. Much like their HYGEN counterparts, they have also been proven to remove 99.9% of microbes. They offer a versatile cleaning solution for all surface types, but can only withstand for 200 commercial wash cycles; 100 when bleach is added.
Hygen Microfibre Cloths
FGQ62088YL00 – Yellow
R050651– Blue
R050652 – Red
R050653- Green
Light Commercial Cloth
1865827- Red
1865828 - Green
1865829- Blue
1865830- Yellow
Hand Hygiene
With the startling statistics revealed in SMC's 2019 study, and the current government guidelines regarding hand washing and COVID-19, we understand that there will be a high degree of anxiety surrounding hand hygiene once businesses begin to return to work. However, we stock a large number of Rubbermaid dispensers and soaps that can elevate hand hygiene standards, and serve as a visual reminder of the importance of good hand washing practices.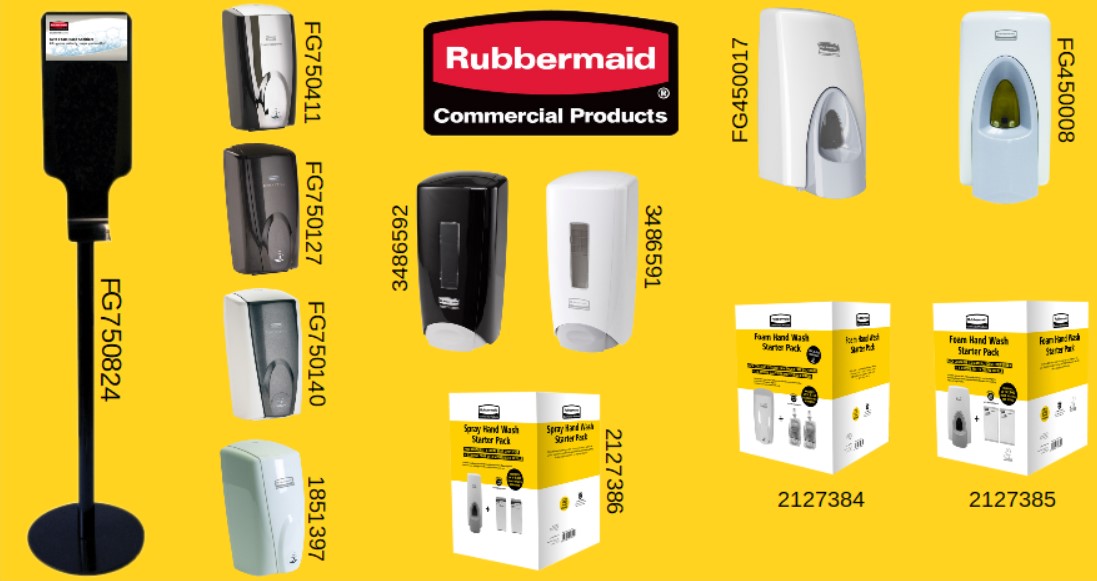 Dispensers
FG750824- Hand Hygiene Station - Black Steel
FG750411- AutoFoam Dispenser 1100ml - Black/Chrome
FG750127- AutoFoam Dispenser 1100ml - Black
FG750140- AutoFoam Dispenser 1100ml - White/Grey
1851397 - AutoFoam Dispenser 1100ml - White
3486592 - Flex Manual Dispenser 1300ml - Black
3486591- Flex Manual Dispenser 1300ml - White
3486590- Flex Manual Dispenser 500ml - Black
3486589- Flex Manual Dispenser 500ml - White
FG450017- Enriched Foam Dispenser 800ml - White/Grey
FG450008- Spray Soap Dispenser 400ml - White/Grey
2127386- Manual Spray Hand Wash Starter - White/Grey
2127384- Touch-Free Hand Wash Starter - White
2127385- Manual Foam Hand Wash Starter - White/Grey
Refills
RVU11502- 1100ml Free'N Clean Foam Soap
RVU11528- 1100nl Foam Soap Antibacterial
RVU11529- 1100ml Foaming Lotion Soap with Moisturisers
3486605- 500ml Flex Enriched Hand Wash
3486606- 500ml Flex EnrichedLotion
3486607- 500ml Flex EnrichedFoam Antibacterial
3486608- 500ml Flex EnrichedLotion - Antibacterial
RVU8502- 800ml Free'N Clean Foam Soap
RVU8528 - 800ml Foam Soap Antibacterial
RVU8529 - 800ml Foam Lotion Soap with Moisturisers
If you are an employer looking to reassure staff that all efforts are being made to protect their physical and mental wellbeing, and you wish to discuss the purchase of these products in preparation for lockdown measures being eased, please contact our sales team on 0208 394 2088. Alternatively, you can email us at sales@sohocommercial.com and a sales representative will contact you as soon as possible.
Sources
Centres for Disease Control and Prevention (2020) How COVID-19 Spreads. Available at: https://www.cdc.gov/coronavirus/2019-ncov/prevent-getting-sick/how-covid-spreads.html (Accessed: 27 April)
McKie, R. (2020) 'Britons will suffer health problems from Covid-19 for years, warn doctors', The Guardian, 2 May. Available at: https://www.theguardian.com/world/2020/may/02/cor... (Accessed: 03 May)
Opinium Research (2020) The Political Report: 27th April 2020. Available at: https://www.opinium.co.uk/wp-content/uploads/2020/05/Opinium-Political-Report-27th-April.pdf (Accessed: 04 May)
SMC Premier Cleaning (2019) Office Habits – The Dirty Truth. Available at: https://smcpremier.co.uk/?s=office+hygiene (Accessed: 27 April)
Recent Posts
On Sunday 10 May, Prime Minister Boris Johnson addressed the nation to detail what he described as …

With the government set to start outlining our county's exit strategy from the COVID-19 lockdown, …

With the development of new routines, both by ourselves and those that we depend on to provide a se …